The Importance of Working With a Local Lender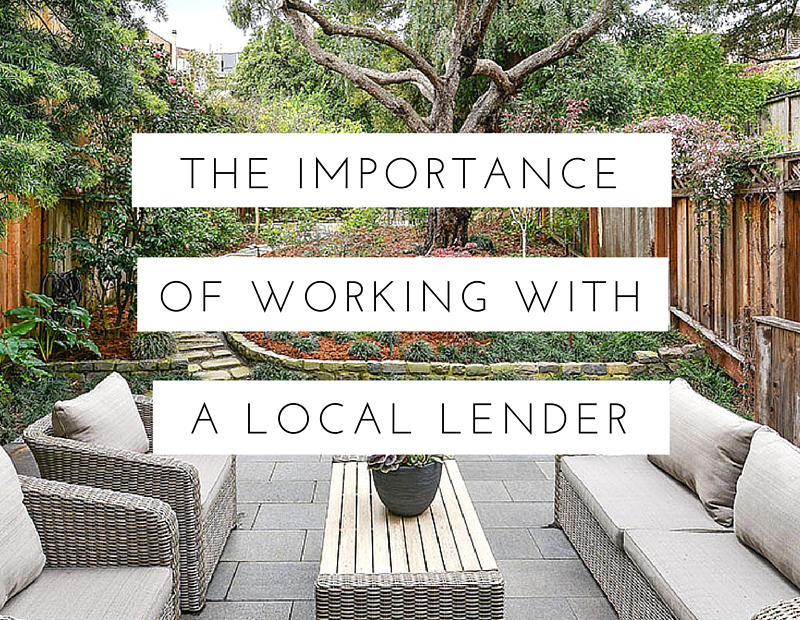 If there is one thing to know about San Francisco real estate, it is it's own beast. There are many complexities that you just don't find in other cities from TIC loans to condo conversions to easements. It's critical to have someone that knows their stuff, knows what San Francisco is about, and can be counted on to take care of any issues that come up.
Working with a great local lender is important for a couple of main reasons
In a competitive situation, working with a great lender is hugely important to getting your offer accepted as one major factor that a listing agent and seller will look at is the strength of the lender. In San Francisco, any good listing agent will call the lender to ask them questions and make sure they're on top of things. We can usually tell within the first 5-10 minutes of a phone conversation with a lender if they're going to be rock solid or a complete nightmare. When a listing agent knows the reputation of the person you're working with, it will frequently bias them (in a favorable way) towards your offer since they know the person understands SF and knows how to close loans.
In order to be as competitive as possible, you need to work with a lender that can remove the financing contingency in 12-15 days and close in 21-25. If you happen to be competing with someone who is offering cash, the 'cleaner' you can make your terms the better your offer looks.
For your own sanity, choosing a great lender is the one of the most important decisions you'll make (after choosing a real estate agent of course :) Typically, when we encounter problems in the middle of an escrow, it's because there is a problem with the loan for different reasons. A lender has not asked you for the proper documentation and overestimated what you qualify for or an out of area lender doesn't understand their loan product and finds out halfway through the transaction it won't work.
When any one of these things happen, we're left scrambling to try and move things quickly down a new path (sometimes with a brand new lender) and working to appease the seller and agent.
We can point you in the direction of a number of great lenders to talk to.
Some of the things to look for in a lender

They originate loans for homes in SF and are familiar with the specifics of working here. This is especially important for condos.

They have great rates

They are smart and proactive

They can remove financing and appraisal contingencies quickly as well as close quickly

They are great communicators and keep everyone up to date

Bonus points if they have a backup plan and multiple programs available