Ten Things Every TIC to Condo Seller Should Know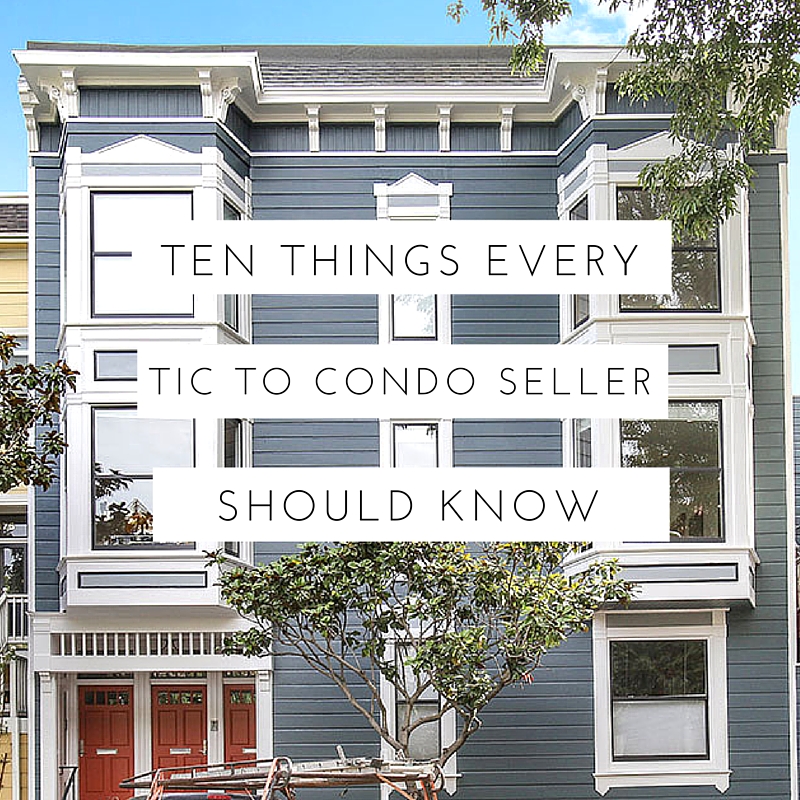 We specialize in helping sellers who are converting from TICs to condos and want to sell their home. We've worked with sellers at every stage of this process and can help you manage each detail for a successful sale of your home. See our most commonly asked questions below, and then get in touch to see how we can help you take the sale of your home from good to great.
1. I'm worried the process is going to be complicated and stressful. How do we make it as smooth as possible?
Having a great team is how you will maximize your profit when selling your property during or after converting from a TIC to a condo. You should have a great law firm, smart and knowledgeable contractors, the right escrow team and an experienced real estate professional on your side to ensure that the process goes smoothly.
Since you've lived in a TIC, maybe for quite some time, you are probably used to coordinating decisions and timelines with other owners. There are a lot of moving parts in a condo conversion, and organization is key. The more proactive you can be in each step, the less chance there is of having to 'put out fires' down the road.
When selling your home, once a buyer is in contract, any 'new' disclosures can trigger a 3 day right of rescission for a buyer. For example, if you haven't worked out your new budget with the other owners, disclosing to a new buyer that your HOA's will be $50 a month higher than you thought could be an issue for someone. Avoid this by working with your TIC partners to finalize decisions you have to make anyways before you put your property on the market.
Some of the important things to work together on before you list your home for sale:
Working out CC and R's beforehand, including thinking about what (if any) rental restrictions you will have, what your pet policy will be, how common areas will be divided, etc.
Working to finalize all budgets, accounts and financials (especially ones that could change).
Organizing any pertinent minutes from your meetings and owner discussions
Organizing any reports, inspections and other major disclosures from your condo conversion or before
Organizing receipts and invoices from any work you've had done.
2. Should we refinance before selling?
This is one of the most common questions we get asked. You have two basic options: the first is to finish the conversion process, have all units refinance first and then put your home on the market as a newly converted condo. The plus of this is that once your condo has refinanced, your sale is very straightforward. The other option that many people choose is to time the sale of your property with the refinance of the other people in your building who are not selling. While this involves some coordination, the upside here is that you do not have to pay the fees to refinance your property when you are just going to sell it immediately after.
3. If we don't refinance, how will that work?
The most important component to making this process smooth is coordinating with all the other owners in your building. It's all too common for other owners to think that their refinance will be super easy and to put off talking to a lender, only to find out that there is a small blip in their credit or some other factor that could be an issue. Having each owner talk to a lender as soon as possible will significantly reduce the chances of delaying financing/selling. Whether you use option 1 or 2, all units must close simultaneously. A refinance loan takes longer than a new purchase loan--typically about 45 days. We always make sure we have written into the contract that a new buyers loan is contingent upon the successful close of all loans in the building.
Also, having everyone who is refinancing use the same lender makes everything MUCH easier. A great lender who can oversee all the loans and coordinate with a new buyer is one of the number one keys to a stress free simultaneous sale and refinance. Many buildings will talk to a few lenders and then work together to choose one they all feel comfortable with. We are happy to provide resources for great local lenders who have experience with overseeing TIC to condo loans.
4. How do we navigate the DBI report?
Almost every building ends up having work to do on their building after the city inspection. This part of the conversion process is probably the most frustrating for owners as it is not completely 'black and white'. It can be expensive and it delays proceeding to the next step of conversion. Working with a contractor who has experience navigating the DBI report and working with city inspectors will make the process much easier. A contractor who has experience with condo conversions can understand the 'grey areas' of the DBI report. But part of navigating this step is having realistic expectations at the beginning of the process. In our experience working with buildings that are converting, what you *can't* control is the inspectors who come out. Unfortunately, it's not uncommon to have one inspector tell you one thing and the next tell you another. We can provide you with a list of contractors we have worked with who have experience navigating the DBI report and inspection process. We also consult with Winder Gibson architects who can make recommendations for trickier items, like stair replacement, code compliance, etc.
5. What kind of improvements should we make to our property?
When getting your home ready for market, we focus on 'bang for your buck upgrades' that we have found to create the biggest return on your investment. The key is to aim for stylish design with a wide appeal that allows any new owners to personalize the home without feeling like they have to. Our general focus in on minor cosmetic renovations that significantly enhance the appeal of a home.The first step after deciding to work together is to have our stager/designer visit the property and outline the top things to transform a home. Visit our page at to see some of our before and after properties. We will also generally recommend fixing any minor damage that can make a property feel rundown but is easy to correct as well as any safety issues. Like any investment, the key is to maximize your ROI. Setting a budget but then investing in your home frequently yields huge returns. See our 'before and after' section for how we have transformed homes with a minimal investment.
6. What about improvements to the building?
Because the city forces most people to make some kind of improvements to the building, make sure you save any invoices or reports from electrical, plumbing and other upgrades that have been done to provide to a new buyer. Some groups of owners will use this time to finish work to the building. A common upgrade is painting the exterior of the building. This is probably the number one way to make a building look instantly refreshed for a sale. At the minimum, you want to do any kind of clean up and decluttering to the exterior so the building feels well cared for.
7. Should I stage my home?
The short answer to this question is yes. Unless your home is very specifically a true 'fixer', we *always* recommend staging. In fact, we think staging is so important that we include the cost of the very best design consultation and staging in our fees, upfront. Staging is much more than showing a buyer where a couch might fit. Staging a home is about presenting a lifestyle that allows buyers to make that key emotional connection with a home, allowing them to envision living there.
8. How much will I be able to sell my home for?
Your home will likely appreciate dramatically after you have finished the condo conversion process. Some of the best investments we see are TICs that have converted to condos. As you know, the process is not always easy, but it almost always is worth it in the end.
Understanding the value of what your home could sell for is an important step in planning your next move. Having a realtor who understands your neighborhood, knows the market and can help you maximize the value of your home provide an analysis is the best way to do this. We provide no strings attached consultations so you know what your home could sell for, how much the costs involved will be and a timeline and process for the sale of your home.
9. How to save taxes when selling your home
Many people selling their home are realizing a huge gain (that's a great thing!) but this profit can exceed the capital gains exclusion for a primary residence. ($500K for a couple and $250K for a single person). Many people don't realize that the costs associated with selling your home can be deducted from the profit you made when selling. This includes realtor fees, painting, refinishing floors, etc. While repairs aren't deductible, improvements are. Going back through old receipts or credit card statements can also be a helpful way to document these improvements. Note:: we are not tax or legal advisors. Be sure to consult a qualified tax or legal representative about your specific situation.
10. What are the costs involved in selling my home?
We can provide you with a 'net sheet' that details the costs associated with selling your home and shows you what you might expect to net. In San Francisco, the biggest costs for a seller are: realtor commissions, any improvements to the property and the city transfer tax (calculated by sales price) as well as miscellaneous costs associated with escrow and closing. Below is a list of what the seller typically pays for in San Francisco.
THE SELLER CUSTOMARILY PAYS:
Real estate commission
Document preparation for deed
Transfer tax (amount is dependent upon sales price)
Payoff of all loans against property
Interest accrued on loans being paid off, reconveyance fees and any repayment penalties
Any judgment or tax liens against seller
Property tax proration until close of escrow
Unpaid and prorated homeowner's dues (for condos and TIC's)
Bonds or assessments
Delinquent taxes
Move-out fees (for condos and TIC's)
Notary fees and recordation fees
Third party Natural Hazard Disclosure Statement & California Tax Disclosure Report
Pre-sale inspection fees (home inspection, pest inspection)
Underground storage tank report
Energy/Water Conservation inspection/repairs