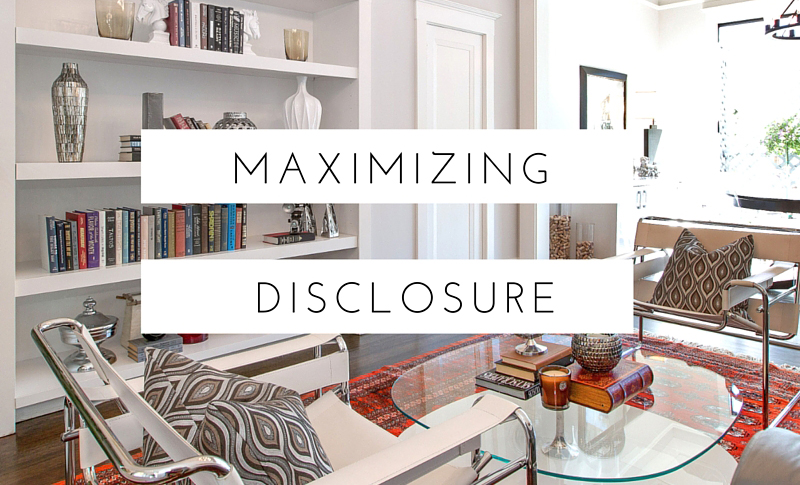 When selling your home in San Francisco, the key to a successful sale is doing as much work as possible ahead of time to avoid surprises down the road. Putting together a complete disclosure package is an essential 'behind the scenes' part of ensuring a smooth and successful sale of your home.
Many people are worried about 'disclosing too much' and presenting their home in a negative light. The truth is that most buyers don't expect a property to be perfect and hiding things about your property will only come out later, which can then involve costly renegotiations with a buyer. This information should be gathered together into a disclosure package before the home goes on the market.
Why is being thorough and accurate with disclosures so important?
The more complete disclosures are, the better your chance of getting a strong and 'clean' offer from a buyer

Complete disclosures expedite the offer process letting a serious buyer make decisions more quickly

Providing home and pest inspections frequently removes a buyers negotiating power when they do these inspections later as you have already presented the information
Being thorough and accurate protects you from post-sale claims of non-disclosures (the #1 legal issue between buyers and sellers)

The more complete our presentation the more seriously a buyer will take your home
Disclosures tell the (true) story of your home and should be organized and presented in a way that gives buyers a complete and accurate understanding of the condition of your home.
When selling your home, once a buyer is in contract, any 'new' disclosures can trigger a 3 day right of rescission for a buyer. We avoid this by doing the work ahead of time to put together a complete disclosure package.
Organize any reports, inspections and other major disclosures

Organize receipts and invoices from any work you've had done

Condos: Finalize all budgets, accounts and financials (especially ones that could change).

Condos: make sure financials are accurate and understandable by a buyer. Information should be presented in a way that is makes sense.

Condos: Organize any pertinent minutes from your meetings and owner discussions of upcoming projects or issues with the building.
We work with our clients to put together a disclosure package that will help make the sale of your home as smooth as possible and protect you from legal claims down the road.