Marketing and Exposure: How to Reach Modern Buyers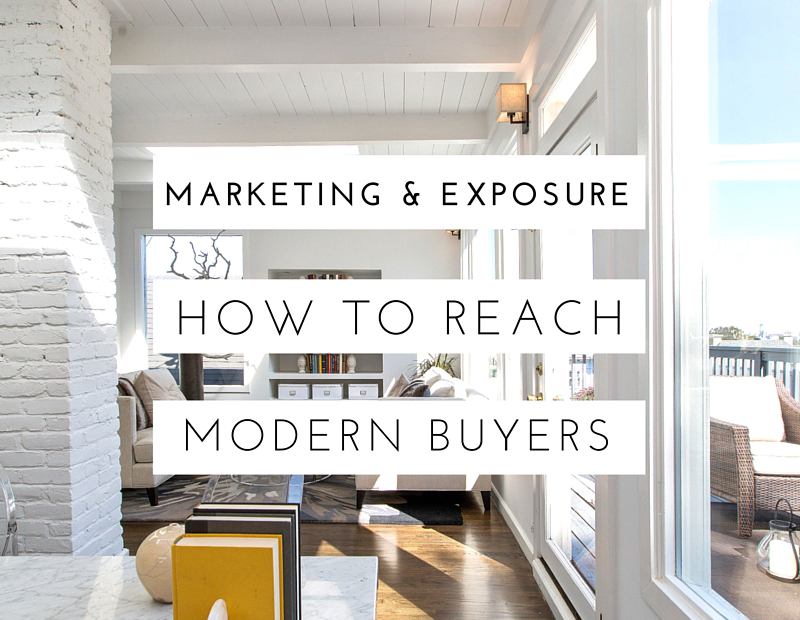 Today's real estate market requires a redefined marketing approach. Our integrated marketing campaigns are targeted to the way today's buyers view real estate and customized to reach the target demographic for your home.
Contrary to what some agents will have you believe, there's a lot more to marketing your home than just putting it on the MLS – at least there is if you want to get top dollar. We all know times have changed and a marketing approach from 10 years ago--even 5 years ago-- isn't enough to reach the right Buyer for your home.
A comprehensive marketing campaign for your house should include both traditional and digital marketing and aim to make people fall in love with your house before they even walk in the door. When it comes to reaching the right Buyers for your home, an ideal marketing plan should include:
1. Identifying Your Ideal Buyer
Effective marketing needs to target a specific audience, and the more you know about your Ideal Buyer, the better. Who are the people most likely to buy your home? How will they live in the home? What features and benefits are important to them? Prepping your home for the market in a way that doesn't resonate with today's Buyer is shooting yourself in the foot from the start. We work with Buyers too and we know how Buyers think. We know what people are looking for and what sells homes (and doesn't).
2. Give Them What They Want
With the popularity of HGTV, Pinterest, Instagram, etc. today's buyer is more savvy than ever before about design. The bar is high and stagers who are not in touch with today's design trends can leave your home feeling bland and sterile. Fortunately, we can help you get your home looking like a million (or three million) dollars. Check out our 'Before and after' to see real life examples of how we use bang-for-your-buck upgrades that get your house the attention it deserves.
3. Getting in Front of your Buyer
92% of Buyers look for a home online, so if they aren't finding yours, you're in trouble. Outstanding photos are crucial to capturing the interest of today's Buyer and in our opinion, professional photography is non-negotiable. A comprehensive digital and social marketing plan allows Buyers to find you online, in the places where they're already spending their time.
We take the best of traditional advertising and couple it with proven digital and social marketing to give the homes we list maximum exposure. We sponsor listings on Trulia/Zillow and create ads that target Buyers more likely to be interested in your home. Our advertising and marketing campaigns can reach 4-5 times the number of buyers a more traditional agent would reach.
4. Marketing that Resonates with Today's Buyer
Different Buyers will respond to different types of marketing and it's important that the marketing for your home is written and designed to appeal to your Ideal Buyer. Does your target Buyer read the postcards he gets in the mail or is she most likely to respond to a video or social media post? The goal with great marketing is to create consistent quality and answer the question every Buyer has: What does it feel like to live here?
We don't fool ourselves into thinking that we can create our own advertising. We work with professional photographers, designers and stagers to make your home look so good online that people can't wait to see it in person.
There's nothing more effective than helping a potential Buyer experience your home, and we use virtual tours to do just that.
5. Agent relationships

Real estate in SF is heavily based around agent relationships and truth be told real estate in San Francisco is like one big high school. It's no accident that you see familiar names over and over as many of the same agents represent a majority of buyers in specific neighborhoods. Having strong relationships with key agents and marketing to them is a crucial part of making sure the right people see your home. Having a stellar reputation in the agent community means your listing is taken seriously by the people who have the buyers.